Smart Home Automation & Security System Services in Del Mar, San Diego, California
(Rancho Santa Fe, Solana Beach, Etc.)
---
Or, click to read testimonial from:
---
"My experience was excellent. I've used them several times and they always solve my problems quickly and professionally."
"You're Awesome."
Robert G. Allen - Rancho Santa Fe
(Best-selling author)
---
"By the way, my experience with your man Todd was excellent. He was great."
Regards,"
Aaron Chang - Aaron Chang Photography
(world-renowned photographer)
---
"Wanted to say that your guy Kevin who has been out twice now is a really, really great asset to you. He is friendly, knowledgeable and positive. Both times the 'little things' were done, such as Velcro ties on the cables and programming the system. It's the kind of work that makes someone want to refer to friends and business associates.. good job and kudos to Kevin for doing another great job!"
Aaron Farmer - Rancho Santa Fe
(farmerinsurance.com)
---
"Our universal remote stopped functioning for the TV commands only. Since Wave Connects installed and integrated our TV, DVD, and sound system, we emailed them (at 8pm) and we received an email back within minutes asking us a few trouble shooting questions. When those didn't work, they asked what time we'd be available the next day to have them come by and take a look at the remote. I work from home, so anytime worked well. They confirmed late morning the next day. Called by 10am and said they could be there in 15 minutes, if that was convenient. It was. So Paul, the owner, showed up just as he said he would and was able to fix the problem within minutes. A small wire had been damaged (we probably did it resetting out TV service). Paul replaced the wire and wouldn't charge us. We purchased our TV and sound system from them when we moved into our house (and the previous house as well).
We have had such terrific service from Wave Connects.They were always on time, very friendly and took the time to make sure we understood how to work our system. They also were very respectful and asked if they wanted us for them to take their shoes off when they came in (to not track dirt in). Also we have indoor cats and they were terrific about always closing the exterior doors. Super work, quality equipment, and friendly staff. They are terrific! You definitely should contact them!"
Nataly & Tim Kelleher – Rancho Santa Fe
---
"We've worked with Wave Connects for the last two years. They are professional and perform quality work in a timely manner. We highly recommend them."
"Below is the contact information for the audio visual company I've worked with in the past. They are extremely detail oriented and fantastic at what they do."
Jennifer Porter - Del Mar
---
"Just got home and must say that the stereo system is outrageous, fantastic, and I am just thrilled with the whole thing. You guys are real professionals, I appreciate everything you have done and will do my best to refer you more business. Thanks So Much!"
Greg Block – Santa Luz
---
"Hopefully you and your family had a great Thanksgiving. Between the TV setup and the outside speakers Thanksgiving at our place was a hit to say the least. Still so happy that we chose to work with you."
"After talking with and researching many other 'professional' home theater installers I ended up selecting Paul and the team and Wave Connects and couldn't be happier that I did. Not only was our job done on time and on budget, but Paul made some fantastic recommendations that pushed our finished product far beyond what I had in mind at the outset.
Now our house and back patio is the envy of all of our guests. It became clear early on that Paul runs a tight ship as he was one of only two companies in San Diego that had the right type of contractors license and WORKERS COMP INSURANCE. As an insurance professional, I know financially devastating it can be for a homeowner if a contractor injures themselves in your home without workers comp insurance. Paul has it and appropriately classifies his employees. Look it up for yourself here - https://www2.cslb.ca.gov… Other vendors skirt the issue by calling all of their 'employees' sub-contractors. They simply act as a dispatch service for tech mercenaries who come to your home and perform the install. Paul owns his business and takes pride in doing things right. His passion for the technology and finished products are evident from the outset. Thanks again for adding to the enjoyment and value of our home."
Matt Habeger – Rancho Santa Fe
(B.H. Gold Insurance Agency)
---
"BTW.....Ben was awesome. I LOVE my new system. I just sit at my desk in my office and turn it on and…..voila!"
Jamie - Rancho Santa Fe
---
"Thanks so much. Todd and the crew did a great job. I already recommended you to a neighbor."
Mark Johnson - Solana Beach
---
"Kevin was great, and helped immensely. Everything sounds / looks amazing.
When we get a cabinet built for our audio in the living room I will call you. Thank you so much! "
Helen Bernd – Del Mar
---
"I can't wait to advise the manager (for the owner) how you took care of the quick fix work done.
Thank you,"
Taylore Mayers – Rancho Santa Fe
---
"Thank you very much for your quick response and good service!"
Catherine Lorenz - Rancho Santa Fe
---
"Kevin did a great job. Sound is way better and cabling is much more streamlined. Was exactly what I was looking for. "
Dave Bone – Carmel Valley
(Solana Flooring)
---
"We wanted to thank you for your help and the fact that we feel your bill was very fair, thanks again!"
George & Lynne Connomikes - Rancho Santa Fe
---
"Paul and his team are first rate. Very professional. It's always a pleasure to do business with them."
David Heiman - Del Mar
(Computer Troubleshooters)
---
"My experience with Paul and Wave Connects has been extremely positive. From start to finish, Paul and team were professional to deal with and demonstrated a high level of technical expertise and passion for their work. It's rare to find this level of service. I would not hesitate to work with Paul and team again in the future."
John - Del Mar
---
Just to let you know... Kevin was great. Good job and very nice!
Take care,
Janet Harris – Del Mar
---
"I just wanted to let you know how impressed we were with Todd and the other guys that were at our house today. Very classy guys, hard working, knowledgeable, and nice. We are just starting to play with everything, but very excited to have everything working again. Due to technical difficulties, they ended up staying past when they expected, and were still very patient and helpful. Thank you so much!"
"Todd was great as usual! "
Julie Duncan - Carmel Valley
---
"You were very pleasant to have at our home as was your assistant, so thank you for your upbeat manner."
Lola & Walter Green - Rancho Santa Fe
---
"Everything works great! Got it all running! Looks fantastic and we're very appreciative!"
Jeffrey Brown - Carmel Valley
---
"I wanted to extend my sincere appreciation for a job well done in regards to our entire home system. From start to finish, every detail was accounted for from the beginning. I must admit that we checked a lot of sources before making the decision to go with Wave Connects and I'm very glad we did so. Again, thank you for providing great customer service along with a professional installation, A+."
Holly & Joe Rippey – Del Mar
---
"I was impressed with your guys. They took the time to explain what they were doing and to answer my questions. They were personable and very professional."
Jay Cohen – Solana Beach
---
"Just saw your email from yesterday confirming 9:30. Love Kevin, thanks for running a great business."
Helen Bernd - Del Mar
---
"Kevin was a wonderful representative, very thorough. We are delighted!"
Alan Cone – Rancho Santa Fe
---
"Everything looks great in San Diego - Todd and Ryan were excellent
Thanks again"
Fiona O'Callaghan – Carmel Valley
---
"Thank you so much for the excellent work that you all do… you have a great team of guys! Wishing you and your family a blessed and wonderful New Year! Merry Christmas!
Pete & Troi Egascue – Del Mar
---
"Everything is set up...works and looks great! Ben did a great job today! Thanks again Paul! Best,"
Doug Van Weelde - Carmel Valley
---
"Your guy was great "
Jon Fullenkamp - Del Mar
---
"Just a quick note of "thanks" for putting Todd on our job.
We have a lot of contractors through here, and he is one of the absolute best. Cordial, knowledgeable and we get the feeling he actually cares about our project (you would be amazed how many don't!). A+.."
Paul Lonsdale - Rancho Santa Fe
---
"Helped us design a custom listening/viewing experience for a high end project recreational vehicle. Creative and leading edge in knowledge and ability, while understanding the demands of a motion environment. Planned for high end enjoyment, longevity and cost-effective maintainability. A trusted resource."
Alan Cone - Rancho Santa Fe
---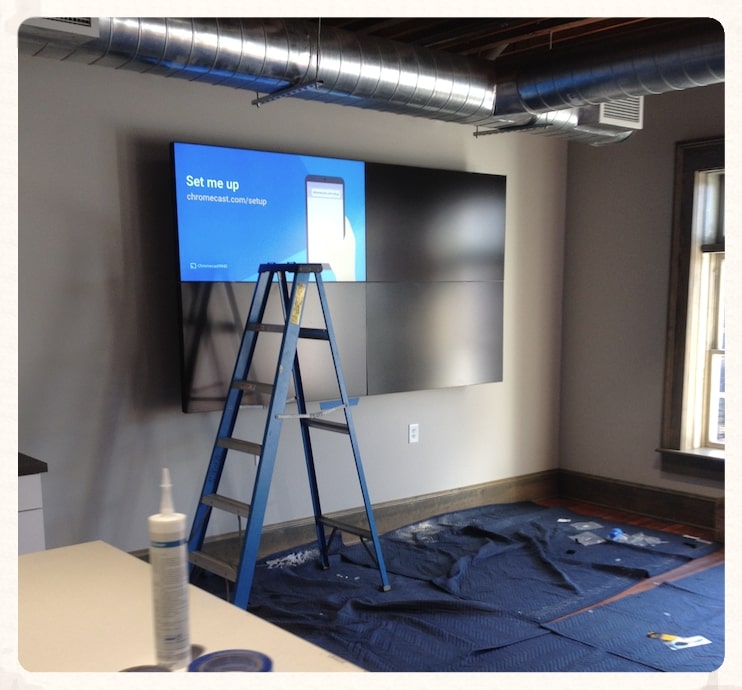 "your team did a great job."
John Kelso - Del Mar
---
"Thanks Paul. I heard from my Paul that your guy was fabulous (my word not Paul's)."
Karen (& Paul) Bryne - Carmel Valley
---
"This note is to say thank you for sending such a hard working and honest employee, Jordan, to our home. You've got yourself a winner there... doesn't happen very often.
Together, David and I employ over 100 employees and understand the value of a great one. We were both impressed, which doesn't happen often. Thanks again,"
Shawn Edgington - Del Mar
---
"… You have really good guys."
Jim Stricklin - Del Mar
---
"You will not find a more reliable company for all your high tech needs. Unbelievable services, prompt response, extremely courteous and efficient. Look no further, you will be delighted and always have their number handy. Truly a remarkable company with whom to do business. What a pleasure! "
Jacqueline Rockoff - Rancho Santa Fe
"I thank you and Ben again most sincerely for your outstanding and greatly appreciated excellent service. "
Jacqueline Rockoff - Rancho Santa Fe
---
"Ben & Jordan did fantastic work this morning. Prompt, professional, courteous, thorough & way above my highest expectations! I really couldn't be happier with how well it went & definitely plan to refer clients, friends & neighbors to you. I put the credit card info on your web payment page. Let me know if there is any problem. Please be sure to include extra hours they were on standby & right there helping the repairman. Then able to remount the TV immediately. Gave me such peace of mind, knowing it was in good hands!"
Rachel Clark - Del Mar
---
"Your team did a great job. Thanks for everything all of your guys were very professional."
"Paul and Todd are great to work with and have used them for multiple projects. Always responsive and very competent on fixing any follow up issues."
Nol Calabrese - Solana Beach
---
"Just wanted to thank you for getting to me today. I really appreciate it. You guys always do a great job and are easy to work with. "
Michael Anderson - Rancho Santa fe
---
"perfect, in and out completed"
Mark Haines - Solana Beach
---
"We again thank every member of your team for the courtesy shown to us and the professionalism of their work on our project They would always go the extra mile to resolve issues and we are so pleased with how the project came out!!"
Jim Nuzzi - Del Mar
---
"Ben was terrific! Very helpful."
Betsy Windthrop - Solana Beach
---
"Really precise and kind.
Your whole team is that way."
Melissa Jonsson - Cardiff
---
"Great service from Ben today ! "
Gary Wheeler - Del Mar
---
"You guys were great, as usual. Have a wonderful holiday. "
Laura Pierce - Del Mar
---
"Paul & his team of techs are the absolute BEST in the business. From start to finish they went above and beyond our expectations. We are really appreciative of their expertise, patience and the time spent to make sure everything was perfect.
We are referring Wave Connects to our family, friends & neighbors."
Cori Chase - Rancho Santa Fe
---
"I wanted to thank you and especially Krista for upgrading my in-home audio system today. My husband and I are very happy with finally having a modern way to listen to music in our home. Thank you for your outstanding work and overall customer service. We will definitely recommend your company to family and friends for their audio needs."
Ann Howard - Del Mar
---
"Francisco did a great job for us and we appreciate your efforts on our behalf."
Mike Dunn - Solana Beach
---